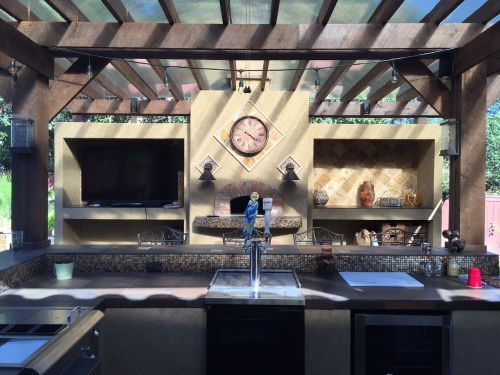 Offers an Ideal Space for Entertaining Guests
One of the most notable benefits of an outdoor kitchen is that it offers an excellent way of entertaining family and guests. This additional patio space creates the perfect atmosphere for guests to relax and socialize as the chef wows them with their cooking and grilling skills. Indoor kitchens rarely offer enough space for everyone to gather around the cooking area, interact, and watch as the chef does their magic without feeling crowded. However, this isn't an issue with an outdoor kitchen. You can also consider adding outdoor furnishings, strings of lights, patio heaters, and some relaxing mood music to enhance the comfort of your outdoor kitchen. A company I would highly recommend you get an outdoor kitchen from is Outashade.
Boosts Your Property Value
Thanks to the increased popularity of outdoor kitchens, they are among the home improvement projects with the highest rates of return on investment. Most modern BBQ grills, as well as other patio appliances, are made from stainless steel which allows them to withstand the varying temperatures of the different seasons. What's more, stainless steel is easy to clean and maintain. A functional outdoor kitchen can serve you and your home for a long time to come.
Helps You Save on Utility Bills
Grilling your food outdoors during the summer helps to prevent an increase in your indoor temperature which means that your AC doesn't have to work overtime to cool your home. Every time you fry, bake, roast, broil food in your indoor kitchen, the temperature within your house tends to increase by several degrees, meaning that the AC has to work extra hard to keep your house cool. By cooking more of your food outdoors, you will be able to reduce your energy consumption.
Keeps Smells Outside
While some foods produce an appealing aroma while cooking, others don't. Odiferous foods like fish or deep-fried foods can leave an unpleasant smell that lingers long after they've been prepared. However, when you choose to cook such foods outside, you keep the less desirable smells outside.
Increases Your Living Space
Rather than building an additional room with walls and a roof, an outdoor kitchen allows you to make use of previously unused outdoor space or repurpose it. If your patio is covered, you can install all kinds of kitchen appliances – even those you can't normally install in your indoor kitchen, for example, a pizza oven or a flat-top grill and a smoker. This means that you can set up the outdoor kitchen of your dreams. Your outdoor kitchen area can be used to celebrate holidays, birthdays, or just relax in the outdoors.
Enhances the Taste of Healthier Food
In addition to improving the taste of food, grilling is one of the most healthy ways to cook food. When something like meat is prepared through grilling, the fat tends to drip off the meat, which means that the end product will be healthier containing fewer calories from fat.
Helps You Save on Restaurant Meals
Having your own outdoor cooking and dining area reduces the need or desire for going out to a restaurant to eat. Eating out can quickly get expensive, especially if you do so on a regular basis. You keep more money in your pocket each time you choose to dine at home rather than go out to eat.
What You Need
After learning about all the great benefits of having an outdoor kitchen, you might be wondering what you need to get started. Here are some of the items to consider:
Barbeque grill
Prep surface
Smoker
Food storage space
Table
Lighting
Bar
Entertainment system
Refridgerator
Chairs
Firepit
Plants
Heating
Ceiling fan