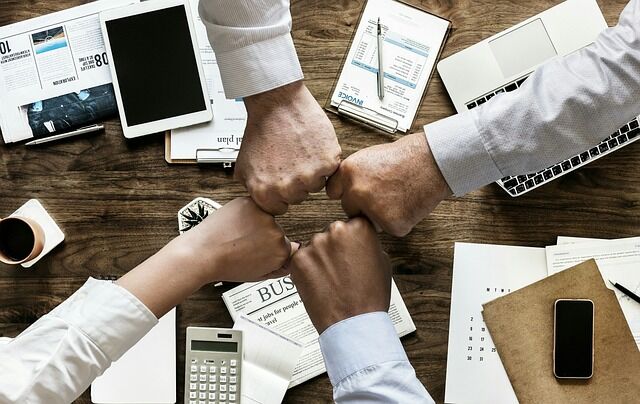 Community service is both a noble and virtuous social activity that helps volunteers in the community to help in improving the conditions of a certain community. For example, volunteers get together to solve various problems in the community including disabilities, poverty, animal cruelty, social distinction, environmental issues, animal extinction, and so on. As a responsible citizen, you should engage in community service in order to develop civic-social skills as well as acquire knowledge about your society experientially. After all, community service will let you make a difference in society and have a positive impact on your community at large.
Community service helps you strengthen your community and social network!
Community service – even at the smallest scale – can help make a real difference to the people around you and improve your life tremendously. On the other hand, it helps expand your network and strengthen your ties to your own community.
1. New contacts & network
Committing to a shared welfare activity together is one of the best ways to strengthen existing relationships while broadening your connections. You get to directly interact with similar virtues and objectives as well as rediscover people who have the same values and principles of life as you do. In fact, volunteer activities will help you find the right contacts you would prefer to work with in your future endeavours. If you are a business there are many volunteering days for companies that you and your team could do.
2. Social & relationship skills
When getting involved in community service, you get the opportunity to deliver the best version of yourself to the arrest of the world. You can travel to many places, interact with folks from different backgrounds, ad show your solidarity. You become a proud advocate of your conscience and get to develop your relationship skills like persuasion, communication, management, active listening, leadership, and more.
3. Provides better carrier opportunities
Community activities help you develop different professional skills while interacting with different people and organisations in the community. That way, you get the chance of acquiring relevant experiences for new careers. You will become competitive in the job market when you can share extraordinary talents with charitable purposes. In fact, most recruiters prefer job applicants who have been involved in community activities.
4. Professional relationships
Participating in community activities will help you develop professional networks through which you can get direct updates regarding new job openings, training opportunities, workshops, as well as networking events. It also helps you build an active voice and awareness of current trends, issues, and resources, which will let you showcase your presence amongst influential community representatives as well as leaders.
You get the opportunity to cultivate essential skills while serving the community. For example, you can develop beneficial skills such as teamwork, public speaking, communication, project planning, problem-solving, and organisation while engaging in community activities. On the other hand, many volunteering initiatives need extensive training and hands-on experience including painting, construction, customer service, and medical expertise.
6. Resume upgrading
Community service will make a difference in your career prospects other than making a difference in the lives of the people you are serving. All kinds of field experience you get during community activities have immense value when it comes to finding a career. Most recruiters prefer applicants with community service experience.
In fact, people with community service experience have the ability to innovate, think outside the box, and work as a team to overcome certain challenges. They will continue to improve themselves while donating their time, money, and skills in the process.
The latest studies reveal that community service has a positive impact on the participant's mind and body. On the other hand, the core principle of community service – giving to others – also helps to improve your physical and mental state.